| | | |
| --- | --- | --- |
| | To Boost Your Immunity, Try Garlic Supplements | |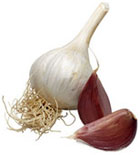 Historians know that garlic has been cultivated for at least 5,000 years, because ancient Egyptian writings attest to its importance as a crop as early as 3200 B.C., according to Foods and Nutrition Encyclopedia. Herodotus, the Greek historian, reported that the laborers who built the Cheops pyramid around 2900 B.C. lived mainly on onions and garlic.
"The first strike in history may have been called by Egyptian pyramid builders when their garlic rations were cut," the Encyclopedia reported. "Four garlic bulbs were found in King Tut's tomb, obviously intended to feed the pharaoh in afterlife. Roman gladiators ate garlic before combat, and Roman noblemen gave garlic to their laborers and soldiers."
A rich source of the mineral selenium, garlic is also a good source of calories, protein, phosphorus, iron and potassium and a fair source of vitamin С.
"The therapeutic uses of garlic are as old or older than the use of the vegetable for food," the Encyclopedia continued. "Across the ancient world from Rome to China, the bulbs were considered to be useful in treating deafness, dropsy, intestinal parasites, lack of appetite, leprosy and respiratory disorders."
A recent variety of studies involving garlic and the immune system show
that garlic is effective in enhancing overall immune function as well as in strengthening and empowering the in¬dividual cells of the immune system, according to Earl Mindell, R.Ph., Ph.D., in Dr. Earl Mindell's Qarlic: The Miracle Nutrient. These findings, he said, could help clarify the mechanism through which traditional garlic use has been effective against infectious diseases.
He added that recent studies have confirmed that garlic stimulates the ability of natural killer cells to destroy tumor cells, virus-infected cells and foreign invaders. In one study, reported in the Journal of Urology, researchers first implanted mice with a cell line derived from murine (rodent) traditional cell carcinoma, an especially virile form of bladder cancer. They then treated the mice with varying doses of aged garlic extract.
"Researchers then examined the mice to determine both the size of the tumor masses and the infiltration of natural killer cells that could destroy the cancer cells in the tumor," Mindell continued. "They found that both the reduction in tumor mass and the increase in infiltration of natural killer cells that destroyed the cancer cells depended on the dose: the higher the dose of garlic the mice were given, the better the mice were able to fight the cancer."
Mindell also reported on an experiment by Florida pathologist Tariq Abdullah, which was described during a meeting of the Federation of American
Societies for Experimental Biology in 1989. The study was designed to test the effect of garlic on natural killer cells.
During the study, human volunteers were given either raw garlic, aged gar¬lic extract or no garlic, Mindell reported. Blood samples were taken before any study began and three weeks after, and Abdullah and colleagues tested natural killer cells in the blood of the volunteers against tumor cells in lab glassware.
Natural killer cell activity for all the volunteers remained about the same initially, Mindell said. But after three weeks of garlic therapy, the natural killer cells of those on raw garlic killed 140 percent more tumor cells in test tubes than those of the no garlic/control group. But for those taking aged garlic extract, the natural killer cells in the blood killed 160 percent more tumor cells than those in the no garlic group.
"In commenting on the results of the study," Mindell said, "Dr. Abdullah pointed out that the use of garlic — even for a period as brief as three weeks — will stimulate natural killer cells and will exert an immunopotentiating effect on the entire immune system. In a report of the study published in the Journal of the National Medical Association, Dr. Abdullah added that the findings 'suggest that garlic may have an effect on other components of cellmediated immunity, including macrophages and T-cells."'
Mindell went on to say that Abdullah has theorized that, if garlic could so dramatically enhance immune function among healthy people, it might be able to help people with compromised immune function, such as victims of acquired immune deficiency syndrome (AIDS).
Aged garlic extract's stimulation of natural killer cell activity has recently been confirmed by in vitro tests, according to Mindell. Dr. Reiko Irie, who is with the John Wayne Cancer Institute in California, and her colleagues, prepared lymphocytes from human blood.
The lymphocytes were then mixed with aged garlic extract and its fractions and incubated for a pre-determined time. They reported that treat++
ment with the extract significantly increased the natural killer cell activity when compared to the control lymphocytes that were incubated in a plain medium.
"Interestingly," Mindell continued, "the effect of the garlic is at least partially dependent on how it is administered. Dr. Benjamin Lau of California's Loma Linda University School of Medicine carried his research using mice a step further to determine which method of treatment was most effective. Some of the mice with murine
transitional cell carcinoma were given injections of garlic extract in the peri¬toneal (abdominal) cavity. Other mice received injections directly into the tu¬mors."
Lau and his research team discovered that injections directly into the tumors were much more effective in arresting the cancer, Mindell said. These injections resulted in almost "complete inhibition of tumor growth," according to a study published in Molecular Biothermal Science. The abdominal injections of garlic extract resulted in only partial — though still significant — inhibition of tumor growth, Mindell added.
Following Lau's initial study, he and his colleagues conducted three more studies to examine in more detail how garlic stimulates macrophage activity. As a result, Lau said, "scientific research seems to support the ancient belief in the medical benefits of garlic," Mindell reported.
Your health food store has many garlic supplements to choose from. With a strong immune system, we are better able to fight colds and flu, bacteria and other insidious invaders.